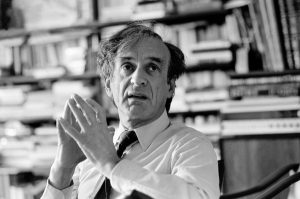 Facing History and Ourselves, a nonprofit international educational and professional development organization, is hosting an essay contest inspired by the works of Elie Wiesel. Facing History and Ourselves' mission is "to engage students of diverse backgrounds in an examination of racism, prejudice, and antisemitism in order to promote the development of a more humane and informed citizenry."
See the announcement:

Facing History and Ourselves is thrilled to announce the 2017 Facing History Together Student Essay Contest. Inspired by a powerful quote from the late Elie Wiesel, Holocaust survivor and Nobel laureate, this year's essay prompt asks students to reflect on what story, book, or person has influenced their thinking about ethical decision making.
With the generous support of Holland & Knight Charitable Foundation's Holocaust Remembrance Project, Facing History is excited to offer more than $25,000 in scholarships and awards to students and their educators. View the full prize structure.
Looking for ways to bring this contest to your classroom? Explore these ready-to-use lesson plans that will help you engage your students with the prompt and get them ready to write.
P.S. Share the contest on social media using #StudentsMakeChoices!
---
Timeline: The contest will open for submissions on Wednesday, March 1 at 9:00 a.m. EST until Wednesday, March 15 at 9:00 p.m. EST. Finalists will be announced on or about Wednesday, April 12. Public voting to help select the winners will open the same day, running until Friday, April 21. Winners will be announced in the beginning of May.
The Prompt: Here is a handout with the essay prompt to distribute to your students or colleagues. 
Eligibility: Students must be at least 13 years old and reside in the United States, Canada (with the exception of Quebec), or the United Kingdom to participate. Please note that slightly different rules apply for participants in the UK; the UK rules can be found below the US and Canada rules in the official contest rules. Read the official contest rules and FAQs for more information.
Questions? Contact us at contest@facinghistory.org.