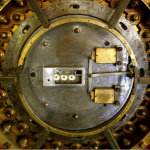 Welcome to the Resources section of our new website.  Here you will find introductory information about various opportunities that may be of major interest to New Jersey area teachers.  Although we think a treasure chest overflowing with jewels and gold doubloons might be the right image for this page, we hope your curiosity will help unlock the vault where these treasures are stored. These websites are subject to frequent change. If you notice one has expired, please let us know by contacting us at thertc@tcnj.edu. 
In this section we feature a brief overview of the following areas:
Conferences: Here you'll find a highly selective and partial list of local and national conferences that might be of interest to N.J. teachers
EDUC 601 Pre-Assignment: Here, students preparing to begin EDUC 601 will find the Observation Pre-Assignment that must be completed before the first day of EDUC 601.  Please bring the completed assignment to class as it will form the basis for several in-class activities.
Grants: Based on information from TCNJ's Grants Office and from other teachers in the M.Ed. Program, here is a list of grants (of varying amounts) available for NJ teachers so that they can find funding to support some classroom-related special interests of their own.
Instruction and Curriculum: This section will include information and links about curricular trends and other educational developments and approaches of strong interest to New Jersey teachers.
Journals and other resources:   This link takes you to a list of journals that might be of particular interest to NJ teachers.  Please note that two of them  (The Educational Forum and "The Record") are edited by NJ instructors. As the Academic Editor of The Educational Forum, I have already published an article by a TCNJ – RTC M.Ed. graduate
Organizations:  Here we will list professional organization that may be of strong interest to our students, including such diverse local organizations as NJEA to the National Writing Project.
Published Inquiry Course Readings: This section includes published course readings for RTC students.
RTC Teacher Research Papers:  This section will include links to pdf versions of papers that have been completed by M.Ed. Students   in the RTC program who have completed EDUC 602.
We would like your help in expanding these offerings. If you know of any additional resources, please email us at  thertc@tcnj.edu