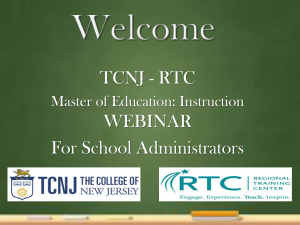 On December 8, 2016, from 3:30 – 4 pm, The College of New Jersey is offering a free webinar to all New Jersey area school district administrators and supervisors.
The webinar will present an informational overview of the professional development courses and programs that TCNJ offers in partnership with the Regional Training Center.
As you may already know, these courses offer instructional enhancement to New Jersey K-12 teachers who wish to be more effective in reaching all learners.  Our courses are developed based on what teachers have identified as their areas of greatest need and draw on contemporary data-based instructional methods and practices.  Our courses are available in 42 locations throughout the state of New Jersey and can be offered in your district as well.
I am writing today to invite you to join us for this free 30-minute webinar specifically designed to introduce school administrators and supervisors to the professional development opportunities that we can offer to you and your school district. The webinar will take place on Thursday, December 8, 2016 from 3:30 – 4 pm and can be easily accessed from your office.  Our guest speakers include school-based administrators who support the work we do with some of New Jersey's best teachers, many of whom may already be teaching in your district.
You may register for the webinar by clicking here or by entering this link: tinyurl.com/TCNJwebinar
The attached announcement has complete information about the webinar event, including the registration link. We hope you will join us for this special event. Please feel free to forward this announcement to other colleagues who you think may be interested in a high-quality, cost-efficient model and fully accredited professional development program.
Feel free to forward this message on to your friends and colleagues in education!